Just when it was all going so well!
According to media buying agency GroupM, 2020 was set to be the out of home industry's best year on record, on track to surpass newspaper and magazine ad sales for the first time. It's no secret that a situation where nobody is, actually, 'out of home' is pretty much an indisguisable nightmare.
And for the brands already tied to the medium? The thousands of promised impacts have somehow been overturned, replaced by the unheeding eyeballs of a few wandering sheep that have taken on the streets as their own. That'll do, right?… Right?
Despite the unforeseen U-turn, brands have combatted the barriers facing OOH in ways that reveal its true resilience, opening doors for new means of creativity that perhaps even show the medium at its best and most effective position yet.
The below examples demonstrate how- even when faced with vacant streets and ghost towns- brands have adapted and innovated using out of home advertising.
Tactical Adaptation
Emily Crisps (Nurture Brands)
With a different campaign set to go live, Emily Crisps made the call to redo their messaging, playing on the British penchant for irony by poking fun at their own poor decision-making. The quick change of creative highlights the flexibility of DOOH to adjust a campaign at the last minute, in order to maintain contextual relevancy. The campaign has generated online conversation since, as Emily posted pictures of the screens with the caption #stayhome.
It reaffirms the idea that with the right creative, OOH can create a seamless transition with the online world and generate digital response too. As Jamie Williams, managing partner at independent creative agency Isobel says, "It might not get many drive-by viewings, but get the creative right and it could still make you famous".
Paddy Power
Staying true to their unique tone of voice, Paddy Power adapted their usual messaging to align with government guidelines to stay at home. The 'Give Our NHS Better Odds' ads show how it is possible for brands to promote positive messaging whilst also remaining true to brand. In the US, similar messaging was used for Choctaw Casino, with new billboards that maintained their usual witty tone, reading 'The Best Hand is Now a Washed Hand'. Clever!
Netflix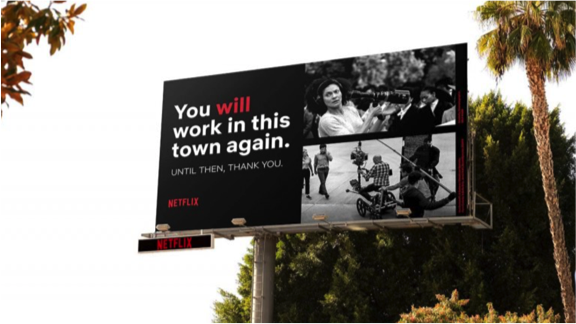 With a pause on production, Netflix have shifted focus away from advertising upcoming shows on their billboards. Instead, they have replaced them with hopeful displays of gratitude, featuring images of crew members from its shows and films alongside the promise that they will return to work. It's an interesting transition of 'stardom', with the ones behind the cameras becoming the focus on the billboards, reminding of the importance of film crews in assembling our favourites.
The campaign aligns with Netflix's $100 million fund to assist with hardship in the creative community at this time, most of which is dedicated to its own workers, but $15 million of which will be designated to third parties and non-profits providing relief to out-of-work crew and cast. Bravo, Netflix!
Creativity
Coca-Cola
Sending a message of support for social distancing measures, Coca-Cola displayed an iconic piece of OOH in Times Square, spacing out each letter in its logo. This innovative messaging is somewhat reminiscent of the campaign by McDonalds Brazil and its separation of the famous Golden Arches, which faced backlash given that employees were not receiving substantial support. It's clear that treading carefully is necessary for brands during the pandemic, as words must align with positive brand behaviours.
However, Coca-Cola have redirected a large amount of marketing spend to relief efforts worldwide, so we're much more impressed with this one.
Led By Donkeys
Led By Donkeys have become widely recognised for their ingenious, thought-provoking and often controversial commentary throughout Brexit (first launched by OOhyes!) and now throughout the pandemic.
The anti-Brexit grassroots movement have equipped the British public with the knowledge of who's got it right and who's got it horribly wrong, placing side-by-side billboards of 'Heroes' vs 'Zeros'. They also parked a digital advan outside of Downing Street, playing a video of the Prime Minister repeatedly telling Britain to "stay at home", upon the outbreak of the Cummings scandal. Eek.
Netflix (kind of)
Returning to Netflix, but this ingenious concept cannot be credited to the streaming platform themselves. Despite the buzz, this campaign wasn't actually implemented. It was the brain child of student duo 'Brave' from Miami School, who came up with the idea of 'Spoiler Ads' which would encourage (or…threaten?) citizens to #staythef***home (their words!) in order to avoid catching the endings of their shows revealed in the streets. An excellent idea worth mentioning nonetheless!
A Platform for Good
Work In Progress (WIP)
Weeks into lockdown all over the world, home-schooling remains no joke for parents attempting to uphold their own jobs too. So, these educational billboards in the US, executed by Boulder agency Work in Progress, are pretty much a Godsend for teachers and parents alike.
The campaign- 'Seven Word Lessons'- allows teachers to submit learnings to be displayed on the billboard, along with their name. A new lesson is displayed at 12pm each day, and the sites are located in high-density housing areas to maximise eyeballs. It's great to see companies helping to make the lockdown struggles just that little bit easier.
OOhyes
And of course, we couldn't leave out our own campaign! OOhyes wanted to spread a message of positivity at a time that for many, has felt anything but positive. Positioned in cities throughout the UK, we received personal approval from Yoko Ono for the use of John Lennon's quotation, as a part of the SafeWorld19 initiative. It's great to play some small role in spreading the message of optimism and resilience that has encapsulated the British public during a time of hardship.
Though the pandemic has cast a cloud over the outdoor industry, it is inevitable that OOH will come back in full force, as gradually life returns to normal. For a media that relies on people being out of their homes, its strength in adapting to the current climate is nothing short of impressive. Billboards have remained visible throughout this time, whether in person, or through a seamless transition with social.
We must remember why 2020 was set to be OOH's best year yet, and why it remains the only traditional media continuing to grow in the face of online pressures. OOH retains unique characteristics of trust and mass-reach (amongst others) which will continue to prevail post-pandemic.