OOhyes CEO & Founder George Rossides discusses the obstacles of managing an out-of-home specialist during a global lockdown and how he has embraced challenge and change.
Media Industry Collaborates to Create a Multiplatform Campaign of Positivity
Running my own independent OOH specialist comes with challenges at the best of times. Doing so in the middle of a global pandemic that's pushed people 'in-home' rather than 'out-of-home' (where I need them!) definitely complicates matters further.
With all audiences in isolation, my industry instantly took the hit. Despite surviving three recessions from the burst of the dot-com bubble to the troubled times of 2008, this time we were in unprecedented territory.
Embrace the unexpected
When the pandemic hit London in February, we had one of two options: panic, or keep our cool and embrace the unexpected. This is much easier said than done, of course. And yet I knew that OOhyes could utilise our experience, knowledge and strong contacts to do good.
So, what better than to try something that we'd never had the opportunity to do before and run our own campaign, spreading positive messages to brighten the mood of an increasingly sombre British public? If our messages could encourage people to stay at home and save lives, then this would be an worthy contribution.
Innovation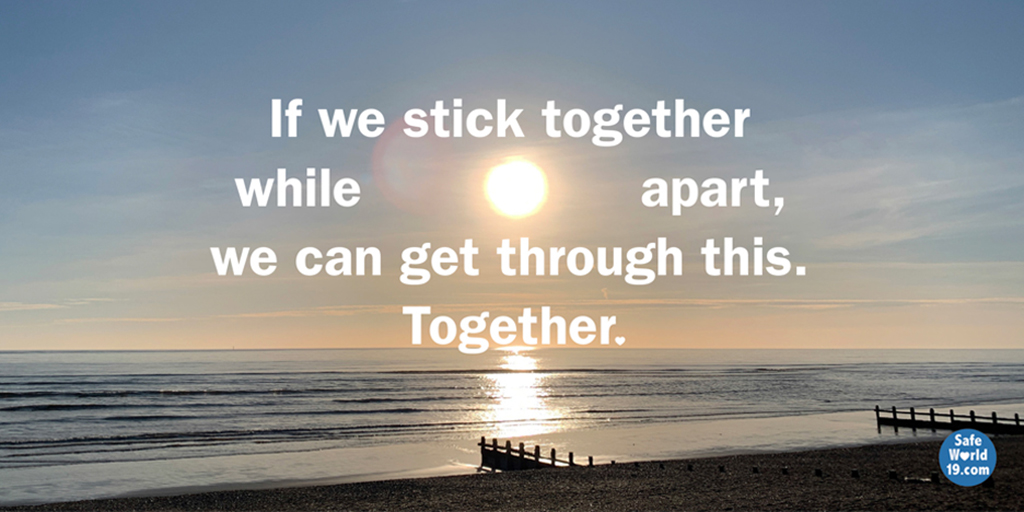 Once focused on the idea to run our campaign, all we needed was a great concept. And who better to assist than my client Gary, a highly gifted creative who, alongside his creative partner (and Genius) Tom Carty at Phantomz Electric, could help bring this to life. Together, the duo and I formed SafeWorld19.
Creative copy was finalised, and the flexibility of digital out-of-home permitted us to run the messaging almost instantly. The first two copies, 'Love & Hope' and 'Together, Together' ran on digital billboards nationwide. This later led to one of my proudest moments in OOH, as Yoko Ono personally approved our use of John Lennon's famous quotation on our very own poster.
As if it couldn't get better than this, Phantomz Electric and my trusted TV agency Guerillascope collaborated to create an incredible TV advert that built on our OOH activity. Narrated by Anjelica Huston, it aired across 100+ channels, successfully touching millions with the message 'All We Need Is Love'.
Collaborate & Motivate
By June, the campaign had run on billboards nationwide, as well as television and radio, thanks to our friends at Bauer Media & Hallam FM. We introduced Press, Direct Mail, Social and PR into the campaign mix in order to make this a fully multimedia campaign, collaborating with our partners to produce some of my proudest work. As an added bonus, I commissioned one of our printers to produce high-quality SafeWorld19 branded face masks which were posted out to our clients, our messaging well aligned with the safety benefits of mask-wearing.
The campaign was created, planned and executed during isolation – very much a first! The time, effort and skills donated to this initiative is quite extraordinary. I thank all parties who have supported us in raising both the spirit of the country during a period of hardship and funds for our beloved NHS.
Adapt & Evolve
OOhyes have been agile and flexible during the global pandemic. As a business, we are now a fully operational Virtual Reality company with all our staff kitted to the top with VR headset units, from which we run our meetings remotely. I knew that working from home could be lonely for our staff who were used to social working, so posting out these headsets could keep us connected in a new and exciting way, whilst also serving as a thank you.
If brands can be agile and innovative when faced with times of doubt, as well as maintain positivity and commitment across their respective teams, they can survive anything.
For any advice about how your brand can adapt to times of hardship, email the team at hello@oohyes.co.uk, and we'll be glad to share our tips with you.